Stage 3 Performance Clutch Kit With Lightweight Forged Steel Flywheel (18.85lbs) for VW MK4 1.8T, MK5 / MK6 2.0T FSI & TSI, MK7 2.0T Gen3 with 6 Speed Manual Transmission
All too often most stock frame turbo upgrades produce power levels that would have required a heavy duty clutch kit that broke the bank (and your left leg), while our Stage 2 clutch kit was just on the cusp of maximum torque capacity most of these turbos are capable of producing. Our ECS Tuning In-House Engineered Stage 3 Clutch Kit bridges the gap in the market between ease of driving, price and torque holding capacity.

This clutch kit continues our legacy of designing and creating top quality, affordable clutch and flywheel kits. Now available for your VW or Audi 4 cylinder gasoline 6 speed manual platform (or similar) with power levels up to 450 ft/lbs. of crank torque.
Our Stage 3 Clutch Kit withstood the abuse that our ECS Tuning "Racewagen", an HPA OEM+ IS38 equipped, threw at it for over an entire race season, and it's still holding strong!

Read our blog HERE: https://blog.ecstuning.com/introducing-the-ecs-tuning-racewagen/
PART DESIGN
CLUTCH DISC
240mm segmented ceramic friction disc
Six dual stage clutch hub damping springs help to reduce gear noise, driveline chatter and provide smoother engagement
PRESSURE PLATE
Increased clamp force over OEM, rated at 2,500lbs of pressure
Zinc-coated for long term corrosion resistance
FLYWHEEL
18.85 lb. single mass lightweight flywheel (32% reduction from stock)
Specifically selected weight for ideal combination between daily and sporty driving style; faster revving for quicker gear changes and less rev-hang
Precision CNC machined from Forged 4140-HT Chromoly Steel
Homogeneous material properties promotes even wear and has superior resistance to warpage and chatter
Heat Treated to 28-32 HRC for improved wear resistance
High precision balanced for exceptionally smooth operation at high rpm
Designed and tested by a 3rd party lab to meet SFI 1.1 specification for added quality assurance.
SFI 1.1 specifies the minimum requirements for material strength and quality, as well as a 3rd party lab spin test to 150% of redline for 1 hour to ensure integrity of material and design.
Black Oxide coated for corrosion resistance
CLUTCH INSTALLATION KIT
Alignment Tool:
VW 2.0T Specific Design, made for perfect fitment into crank bore
Perfect clutch disc spline and size, easy removal with pull tab
PLEASE NOTE: Not all aftermarket clutch kits include this proper alignment tool! We ensured you receive the proper tool for trouble-free installation!
Install Hardware:
OEM Triple Square Flywheel Bolts - QTY 6
OEM-Grade Hex Head Pressure Plate Bolts - QTY 6
OEM Throwout Bearing Bolts - QTY 3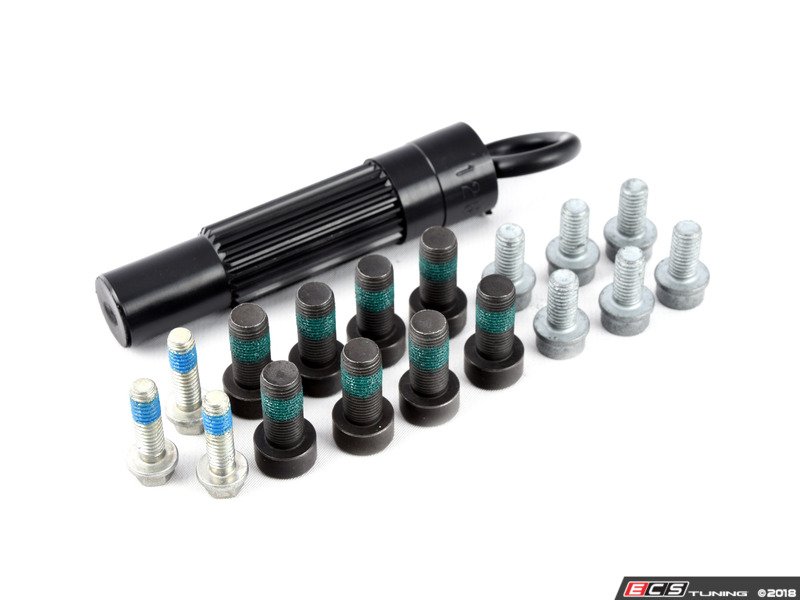 THROWOUT BEARING
LUK OE spec for ease of install and reliable operation
PERFORMANCE FEATURES
With our lighter weight flywheel and performance clutch kit you can expect quicker revs, faster acceleration, improved rev matching, less rev-hang and faster shifts.
Lighter weight total assembly over OEM components (8.33lbs savings):

Clutch Disc - OEM 2.45lbs / ECS 4.25lbs
Pressure Plate - OEM 10.80lbs / ECS 9.50lbs
Flywheel - OEM 28.05lbs / ECS 18.95lbs
TOTAL COMBINED WEIGHTS - OEM - 41.03lbs / ECS 32.70lbs
PRODUCT DEVELOPMENT
From inception to completion, over a lengthy development process and multiple designs tested and re-tested, we are proud to finally offer what we believe is the very best clutch kit in this market, at the very best price! We partnered with a global clutch manufacturer for a performance clutch disc and pressure plate that met our standards and reliably holds 450 ft/lbs of torque. We designed and engineered our single mass lightweight flywheel and sent it out to a third-party balancing company for SFI 1.1 design testing. Although each flywheel is not numerically certified for SFI, the design meets all requirements for SFI 1.1 Certification.
Our Clutch and Flywheel Kits were tested and quality inspected by our Research and Development team in our Wadsworth, Ohio facility. We strive for the highest level of precision and quality through leading edge product development technology including FARO laser scanning for reverse engineering and quality inspection, SolidWorks 3D CAD modeling, rapid prototyping utilizing our in-house 3D printer, and rigorous long term product testing.