Why would one love something as mundane as engine oil and additives? Well, when the product lives up to the hype, what's not to love?
Having been in this industry for a number of years means a few things—mainly that I've sat through endless presentations from manufacturers, trying to decipher countless sales schemes that pad shop pockets before providing the customer with a quality product. I've seen new products come to market which promised the world, when in reality all they did was provide the manufacturer with impressive margins. I've literally seen it all.
This was the case until I stumbled upon LIQUI MOLY through one of the major automotive distributors. I got intrigued and ordered a few bottles of oil to try out. The product that arrived was clean, had labels that were clear and concise, even an oil change sticker integrated into the bottle. What really impressed me was the clear representation of all the specs that the oil had approvals for right on the front of the bottle. There was no need to go searching for any additional information if you already knew what you wanted to use.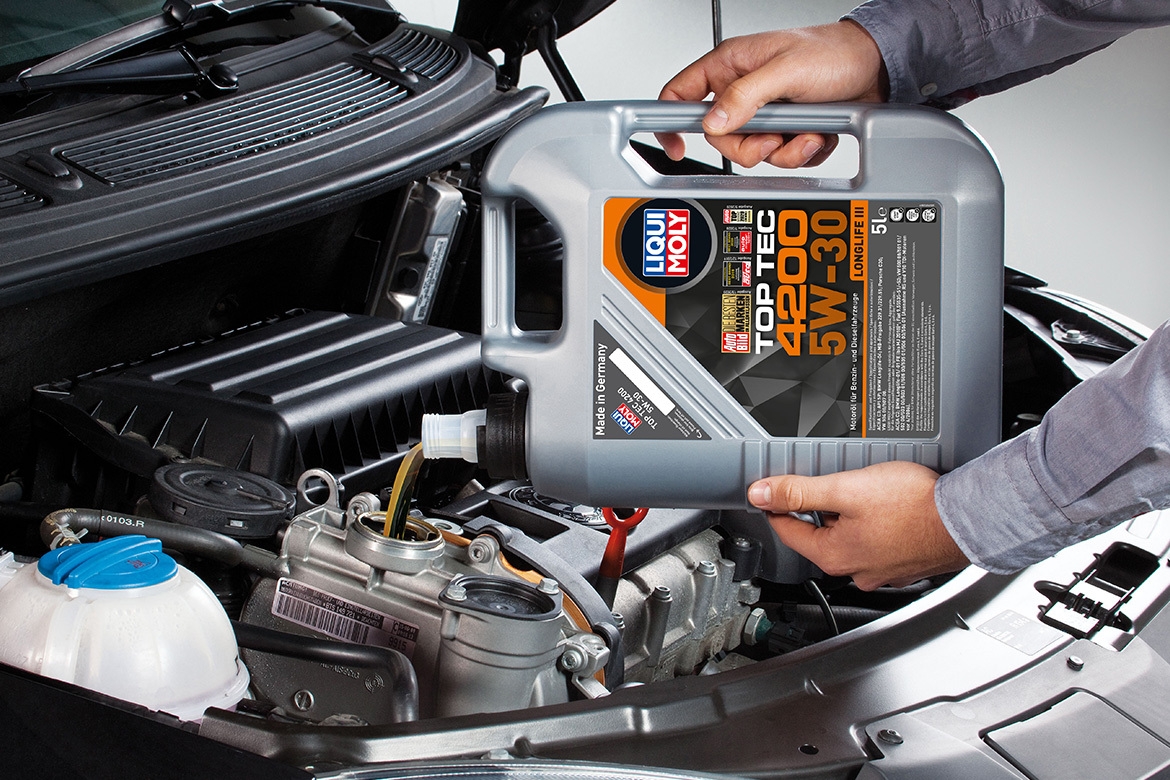 Check out the peel-able oil change sticker integrated right onto the 5L jug!
But with LIQUI MOLY there had to be something that was too good to be true. I fired up Google and began my search for horror stories but to my disappointment, website after website, customer after customer, mechanic after mechanic, all came back with only good results and great things to say. This led me to search deeper. I found blogs and websites that broke down oils and additives and by using scientific tests, they were able to prove that not only the oil worked quite well and did not break down under severe conditions but also the additives did what they said they did.
All this positive feedback, both from the company and what I found on the internet, couldn't be true. This prompted me to begin playing around on my own car with the different additives. I must've tried their entire catalog and I am happy to report positive findings with virtually all of their products. Stop leak will, wait for it, stop leaks! Ceratec will help reduce friction as will MoS2, the Engine Flush will clean your engine and not harm anything, their oils with manufacturer approvals will protect your engine just like the manufacturer intended, the transmission fluids will ensure proper pressures and operation under all conditions, their differential fluids will make sure your diffs are operating smoothly and quietly.
The entire LIQUI MOLY portfolio is so good that I felt compelled to not only use it myself, but give my customers the chance to reap the benefits of such a good product.
Fast forward a few years, LIQUI MOLY partnered with FCP Euro in the Pirelli World Challenge series, and part of that partnership is a constant line of communication between the two entities. LIQUI MOLY representatives visit our facility to make sure everything is going smoothly, but they don't come to sell, force anyone to use the products, or talk about how much profit it could make us. All the representatives do, is educate. They bring free knowledge, banners, marketing materials and enough SWAG to satiate even the neediest of kids.
In a landscape that's saturated with buzzwords about GPM and profit and everything else, it's nice to know a company that cares about you, the customer.